Block Services
Specialists in long leasehold block management
Block Services
Specialists in long leasehold block management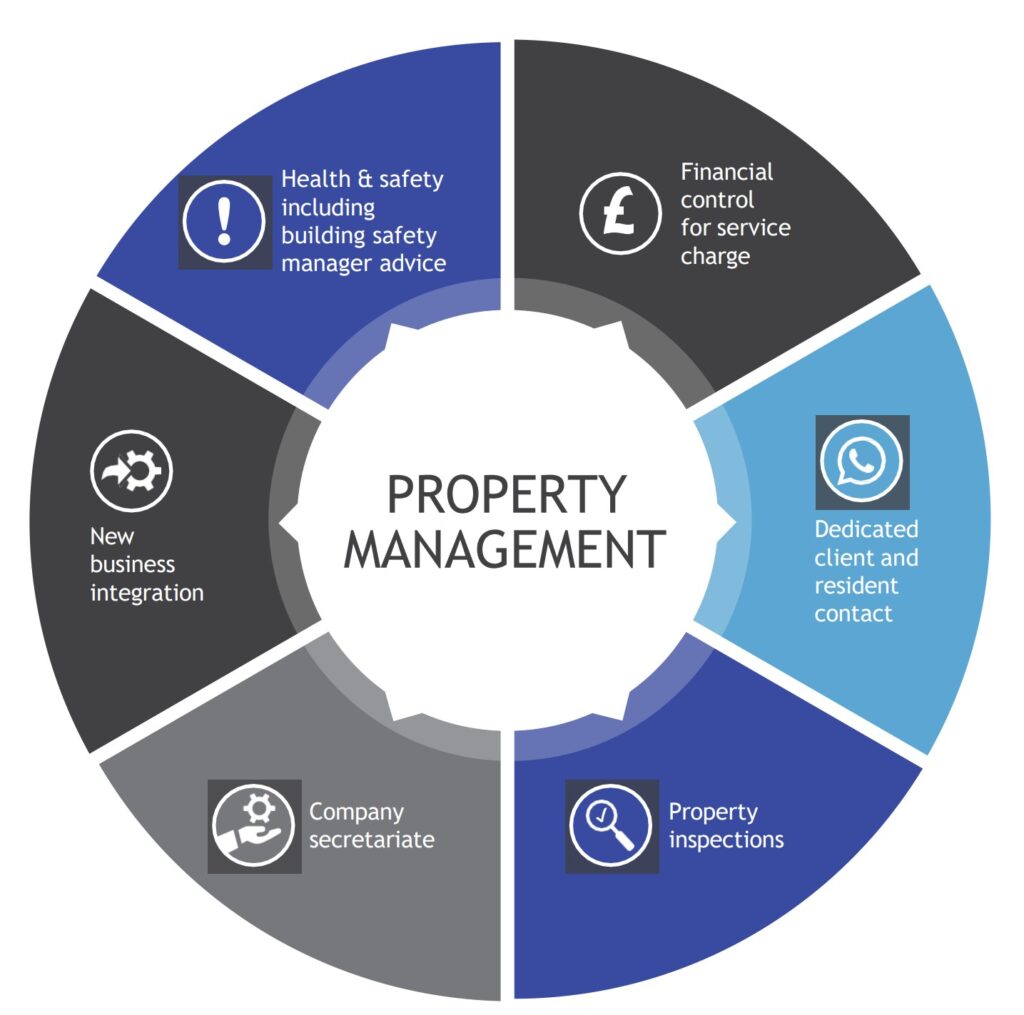 The role of a Managing Agent
The role of a managing agent today is a complex one and requires a professional approach. It requires knowledge of landlord and tenant law, building construction, health and safety regulations, basic accounting and more. There are benefits of professional block services which should be balanced against the fees which leaseholders will have to bear.
Benefits of using an Agent
Professional managing agents will bring an organised approach to the administration and collection of service charges and reserve funds, planning timetables for redecoration and repairs as well as inspection and supervision of works.
Our assessment of what must be done and when, will be independent of private interests and preferences and based solely upon our duty to keep the premises in good repair.
The process of collecting funds and the responsibility for taking steps to recover unpaid charges will be removed from individual directors.
A managing agent should be geared up to handle time-consuming administration more efficiently through better facilities for storage and retrieval of records, as well as the documentation essential for accounting purposes.
Issues and disputes can be dealt with impartially and at an arm's length to limit the animosity and division which could arise where personal issues become the business of neighbours and colleagues.
An agent will distinguish between the needs and duties of the company under the Companies Acts and the needs and duties of the company in its separate role as Landlord and the relevant landlord and tenant legislation.
Acquire competitive insurance rates to save the client money.
Using an agent passes some of the responsibility for compliance with leases, laws and codes of practice to the agent BUT the directors of a RTM are responsible for setting policy and monitoring the work of the agent.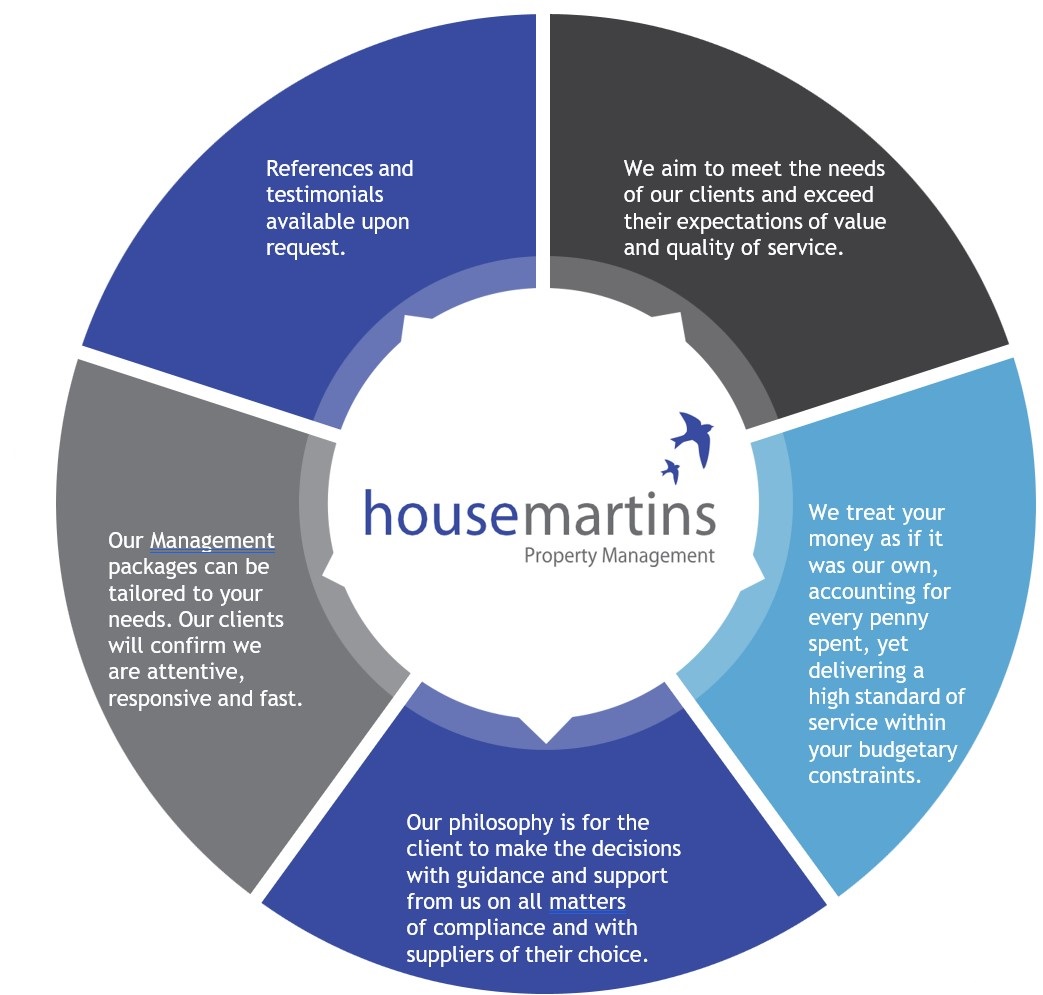 What qualifications should an agent have
Housemartins, we are members of the RICS (Royal Institute of Chartered Surveyors) and accredited members of ARMA (Association of Residential Managing Agents). The advantages to our clients of us having membership of a recognised professional organisation are:
members will have professional indemnity insurance to assist you if the agent has acted negligently;
members will be checked on the way they hold monies collected on behalf of their clients, i.e. you; and
members will be required to have a complaint handling procedure and access to an independent ombudsman service.
Why choose Housemartins Property Management
Personal and friendly administration
Professional standards
Robust common sense
Transparent charges
Management and surveying expertise under one roof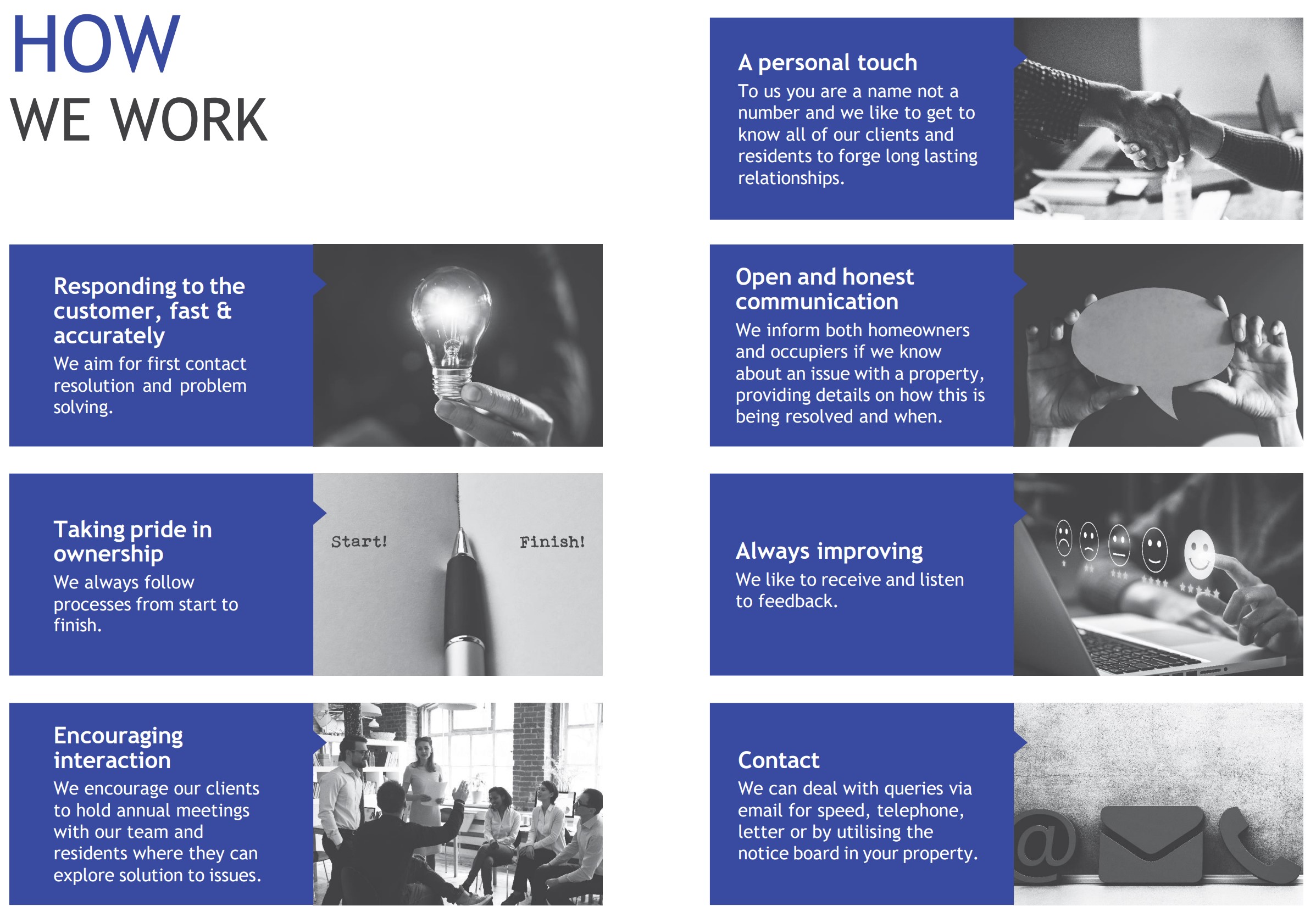 Our commitment to you
We follow the Service Charge Residential Management Code issued by the Royal Institution of Chartered Surveyors, to ensure competence, integrity, fairness, transparency and peace of mind to our clients.
The distinct difference that separates us from other managing agents is that we provide a complete service including professional supervision of major works which is  often is outsourced by other managing agents.
We pride ourselves on being transparent and fair and we always maintain a neutral position between both appointed directors and leaseholders  alike.
Housemartins is very proud to have achieved an ARMA-Q accreditation together with being regulated by the RICS.
If you would like more information see our brochure here.
Why continue to accept poor service
Many Leaseholders are unhappy with their current block services and the service they are receiving.  When we ask why, we find that this is often due to excessive charges and poor communication.  Leaseholders often feel it is "better the devil you know" and fear that changing agent would be a massive upheaval.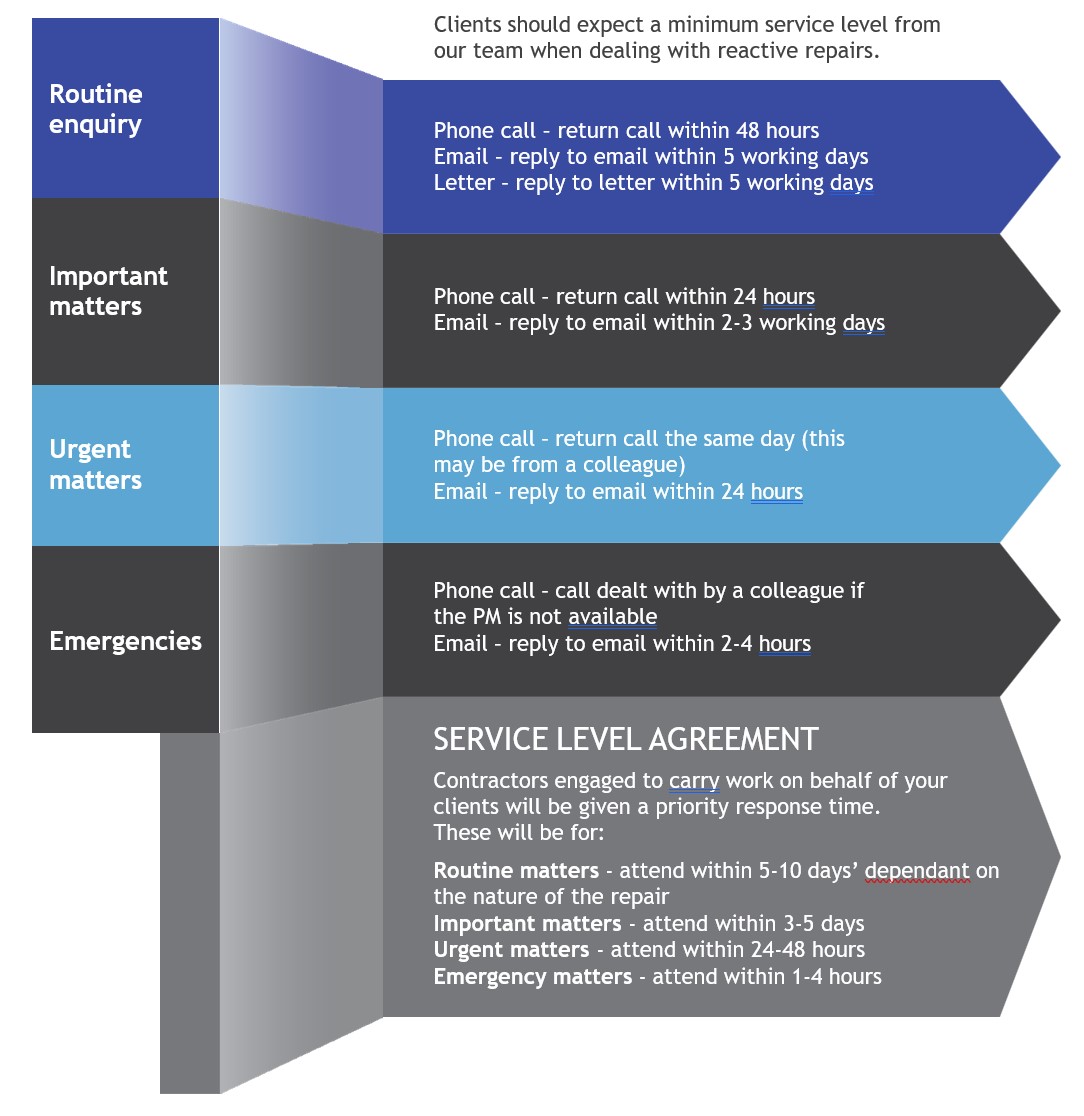 The solution is easy – transfer to Housemartins
By instructing Housemartins as your managing agent we are confident that we can provide you with a seamless move and set you towards the high quality service you deserve at a fair cost.
Think you've heard this all before and still not sure which way to turn
We pride ourselves on being cost-effective, professional and transparent.  We can tailor our management service to meet your specific requirements and our in-house team of Surveyors can assist on all aspects of running and maintaining your building.
Why not get in touch and make a no obligation enquiry to find out how Housemartins can help you and your building. We look forward to your call.
All communications will be treated in the strictest confidence.
---
Contact Us
Head office:
11 High Street
Seaford
East Sussex
BN25 1PE
Telephone: 01323 896418
Opening Times:
Monday – Friday 9am-5pm
Weekends – Closed
Out-of-hours, emergency contact:
07872 335820
Testimonials
Don't just take our word for it, here's what our clients are saying...
I have worked with Emma at Housemartins for over 11 years on and off, and in that time Emma has been a pleasure to work with. She has a rare blend of expertise, proactivity, transparency and value which makes her an exceptional partner for our development.
Emma's knowledge is unparalleled, consistently demonstrating a deep understanding of the property management regulations and is always keen to offer a high value service. We have followed Emma to Housemartins from our incumbent agent because Emma is so proactive and genuinely cares about her portfolio and clients.
Whereas previous agents were always slow to reply and provide solutions, Emma is on top of everything and is a real doer – yet she still makes time to check in with our board with updates and guidance. There is full transparency, financials are easy to understand and the team are always keen to provide a real value for money service, saving us money on third party suppliers, building great trust and developing a very positive working relationship.
If you are considering Housemartins and the team then I would highly recommend their services, under Emma's stewardship. They manage our development is if it was their own and this sets them apart from any other agent I have worked with.
Emma
We made real headway with our dispute within a couple of days of Housemartins becoming involved.
Bill, East Sussex Flat Owner
Many thanks for your help and advice which I have found very helpful. I look forward in due course to working with you again.
Ms R, Bexhill
Thank you for your support, for all the work you have done, you were great!
Daphne, Company Director
Housemartins helped find the best solution and gave us honest and invaluable advice.
Rebecca, Leaseholder
Just a short note to thank you for all the support during the last 2+ years, especially in the early days.  Being the professional company that you are you stuck with it. Your response to requests with answers expected 'yesterday' was all taken in your stride.  I wish you all the best.
Adrian
Once again we can't thank enough for your beyond the call efforts.
Paul and Marilyn
Paying you that £500 was the best £500 I have spent in a very very long time. I would not have recommended you and your company if I had thought any different. You are worth every single penny. Your level of professionalism was outstanding and has helped me with my freeholder struggles tremendously.
Mrs D
I have been resident here for over three years and a director for one. Housemartins have proved particularly resourceful and sure-footed in their responses to contingencies such as the need for an emergency lift repair last year. The quote called for a lengthy 'Section 20' consultation but, some residents being disabled, the work could not be delayed. Finding myself the only responsible person on site, I was grateful for Housemartins' hourly advice and close assistance to obtain the approval of all other leaseholders, and thereby to arrange an early repair.
This reminded me of their decisive response to my lesser contingency, when I had just moved in. My satellite television provider arrived to find a gap in the installation. Their solution required the temporary disconnection of aerial distribution to all flats, one by one. Housemartins gave permission for the work to proceed immediately, and undertook to absorb any queries from residents who would have received no warning of interrupted service.
I am writing this as an individual, but can add that my fellow directors had no hesitation in recommending the re-appointment of Housemartins Property Management for the current year. This was unanimously agreed by leaseholders present at our recent AGM.
Yours truly,
V L F